Energy Wise Tips are dedicated to bringing you a monthly energy tip to save you energy and money!
EnergyWise Tip: Weatherization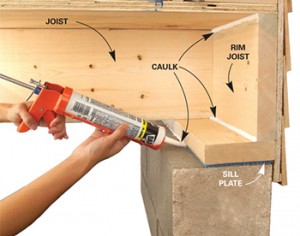 It doesn't take more than one winter of living in Nebraska to know it gets cold here! While about half the energy used in your home goes toward keeping you comfortable, roughly six times more energy is needed to keep your home warm during the heating season compared to the amount of cooling needed in the summer. How can you reduce these costs without emptying your bank account? Weatherize!
According to ENERGYSTAR®, many homeowners can realize savings of 20 percent or more on heating and cooling costs by improving the sealing and insulation of their home. Fortunately, many of these improvements can be completed by yourself at a small cost. Here's how to start.
First, identify air leaks and drafts in your home that are easy to find by "feeling" around. Frames around windows and doors are common sources of air leaks and are easy to pinpoint on cooler, windy days. Note that special, low-expansion foam is recommended for sealing around doorways and windows so frames are not squeezed to a point where the window or door will not close. Other leaks may take some hunting to find, such as holes hidden in attics, basements and crawlspaces. Check around penetration areas that go through the outside of your home to see if they are sealed. These include entrances for utilities, air conditioner line sets, dryer vents, etc. When a potential leaky spot is found, seal it up with caulk, spray foam or weather stripping. Install foam gaskets behind outlets and switch plates located on exterior walls. Replace worn door sweeps and thresholds. If you can see daylight under a door leading outside, you have air leaks!
Next, take a look at your insulation. Usually, the easiest places to check are where it makes the biggest difference, such as in the attic. If your insulation is level with or below the attic floor joists, you definitely need to add more. It is recommended that attics in our area have an R-value of at least 38 or more. If your home has fiberglass batt or blown-in attic insulation, it should be at least one foot thick. If not, adding insulation is relatively easy to do and provides excellent energy savings when compared to cost. Wall cavities are more difficult to investigate, but should be insulated to have an R-value of at least 13. Adding insulation to walls can be difficult, but often contractors can blow in insulation from the exterior of your home without disturbing the finished interior.
If you have ductwork in your home that runs through unheated areas such as the attic, crawlspaces or an unconditioned basement, they should be insulated and properly sealed. Leaks are often easily identified by operating your furnace or air-conditioning system and feeling around the ductwork for any escaping air. Most hardware stores carry aluminum foil tape or HVAC mastic that are specifically intended for sealing these types of air leaks.
While projects described above often take some effort to complete, their return of energy cost savings pays for itself very quickly. In some cases, such as caulking around leaky windows, material costs are covered in less than a couple winter months.
For additional ideas on how you can make your home comfortable and EnergyWiseSM this winter, contact Perennial Public Power District.  You may even find you are eligible for incentives to help with the cost of energy-saving home improvements.  For more information on saving energy in your home, along with possible EnergyWise energy efficiency financial incentives, contact Perennial at 402-362-3355.