Perennial Public Power District (formerly York County Rural Public Power District), was formed December 31, 1938.
Those elected as directors for formation were Nat R. Simmons, chairman, Glenn Severn, H.C. Slonecker, W.C. Noyes, Raymond Samson, I.J. Friesen, Julius Rathje, Curtis Reed and Elmer Gocke.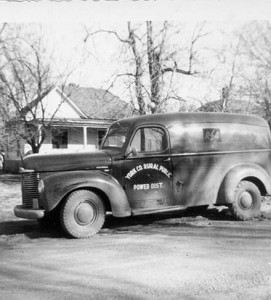 January 4, 1939 – was the board's first legal meeting at which by-laws were adopted. H.C. Slonecker was named Project Superintendent (the position now known as General Manager) and a resolution was adopted to borrow $271,000.00 from the Rural Electrification Administration (REA) in Washington for line construction.
In the following months, engineers and a construction company were hired for building lines, and people were sought for electric service and work started. In September 1939 the board voted to buy power from Seward County Rural Public Power District, and at last, on February 6, 1940 it was announced that 130 miles of lines had been completed and 118 customers were receiving power.
By September 1945 the district had 248 miles of line and 508 customers. It was also in 1945 that the district office was moved from 722 Lincoln Avenue to 1010 Lincoln Avenue.
October 2, 1945 – the board adopted a resolution to add Fillmore County to its territory. At that time two new directors (Oscar Nelson and Lee Parsons) were appointed from that county.
September 1952 – H.C. Slonecker resigned as general manager and Paul James took over in October. Due to farm growth and the growing use of deep well irrigation systems, the district decided to borrowed $2 million to expand power output.
May 1957 – Roy A. Speece took over as general manager. The district continued to grow through the 1960's and 1970's as farmers discovered new ways to use electricity to make their operations more efficient.
View More History