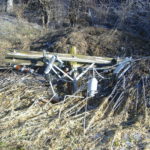 Winter storms can cause power outages that can last for days. These storms can make roads and walkways extremely dangerous and also negatively affect childcare and health programs. Injuries and death may occur from exposure, dangerous road conditions, carbon monoxide poisoning, and other winter storm conditions. Be better prepared this winter by following these tips.
Before the Storm/Prepare
Signup for local alerts and warnings.
Create and test emergency communication plan(s).
Stock emergency supplies and install battery-powered or battery backed-up carbon monoxide detectors and smoke detectors.
Winterize your home.
Review your property insurance and safeguard critical documents.
Identify a place nearby where you can safely warm-up should you lose heat in your home.
During the Storm/Survive
Stay indoors and off the roads. If you must drive, keep emergency supplies in your car.
Close off rooms to consolidate and retain heat.
Dress in layers, and use blankets to stay warm.
Bring pets into a warm place and out of the storm or severe cold.
NEVER use a generator, camp stove, charcoal grill, or gasoline or propane heater indoors as these items can start accidental fires, cause electric
shock and/or cause deadly carbon monoxide poisoning.
NEVER heat a home with a cooktop or oven.
Limit your time outdoors, and stay dry.
After the Storm/Be Safe
Only drive if necessary. Remove snow and ice from your tailpipe before starting your car, and check regularly if idling. Clean all snow and ice from your car before driving.
Dress in warm clothing, stay dry, prevent prolonged exposure to cold and wind, and avoid overexertion clearing or shoveling snow. Overexertion can lead to a medical emergency.
Monitor local news and alerts for emergency information and instructions.
What should be in your Winter Storm Preparedness Kit at Home? 
Water – one gallon of water per person per day for at least three days, for drinking and sanitation.
Food – at least a three-day supply of nonperishable food, as well as a three day supply of infant formula, bottles, diapers, wipes, diaper rash cream (if you have an infant or toddler) and Pet food and extra water for your pet.
Battery-powered or hand crank radio and a NOAA Weather Radio with tone alert.
Flashlight with extra batteries, a first aid kit, and a whistle to signal for help.
Dust mask to help filter contaminated air, plastic sheeting and duct tape so you can shelter-in-place (seal off the room and stay put).
Moist towelettes, garbage bags and plastic ties for personal sanitation.
Wrench or pliers to turn off utilities.
Manual can opener for food.
Local maps.
Cell phone with chargers and a backup battery.
Prescription medications and nonprescription medications (such as pain relievers, anti-diarrhea medication, antacids or laxatives).
Glasses and contact lenses solution (if you wear glasses or contacts).
Cash or traveler's checks (as ATMs or other forms of payment may not be working in an emergency).
Important family documents such as copies of insurance policies, identification and bank account records saved electronically or in waterproof,
portable container.
Sleeping bag or warm blanket for each person, (remember warm clothes and blankets can help prevent hypothermia. Do not forget warm, waterproof, and protective footwear as well as gloves).
Complete change of clothing appropriate for your climate and sturdy shoes.
Household chlorine bleach and medicine dropper to disinfect water.
Fire Extinguisher and matches in a waterproof container.
Feminine supplies and personal hygiene items.
Mess kits, paper towels, cups, plates, and plastic utensils.
Paper and pencil, books, games, puzzles or other activities for children.
Remember to maintain the kit so it's ready when needed. Keep the canned food in a cool, dry place. Store boxed food in tightly closed plastic or metal containers and replace expired items as needed. While creating this kit, ask yourself, "What would I need for myself and my family if a winter storm  struck?" and "What would I or my family require if we did not have access to a grocery store or pharmacy for at least three days?" Add any of these  specific items to your Winter Storm Preparedness Kit.
What should be in your Winter Storm Preparedness Kit for your car?
Something red to hang out your window or tie on your antenna if you get stuck in the ditch.
Heavy coat and blankets for protection from the cold.
Snow shovel, broom, and ice scraper.
Abrasive material such as sand or kitty litter, in case your vehicle gets stuck in the snow.
Jumper cables, tools, flashlight, and warning devices such as flares and emergency markers.
A cell phone with charger, water, food, and any necessary medicine (for longer trips or when driving in lightly populated areas).
For more tips on how to be safe when severe weather strikes visit www.ready.gov. If you happen to lose power during a winter weather storm please contact Perennial at 402-362-3355.