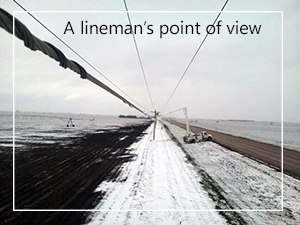 America's public power districts and cooperatives have designated the second Monday of April as National Line man Appreciation Day. On April 13, 2015 Perennial will recognize their hard working crew; who often work in challenging conditions to keep the lights on. Perennial has over 20 employees who work in the field restoring power during outages and maintaining the District's infrastructure. Collectively, Perennial's Operations Department has over 248 years of experience.
"The caliber of our employees is top notch," says Randy Martin, Manager of Operations. "Each and every line technician should be commended for their hard work in delivering safe and reliable power to our customers. They work all hours of the day and night, often in hazardous conditions away from their families, going above and beyond to restore power to their communities. Our linemen, as well as linemen from across the nation, are often first responders during storms and other catastrophic events, working to make the scene safe for other safety heroes."
Linemen are the backbone of the electrical industry, they work with thousands of volts of electricity 24 hours a day, 365 days a year, to keep electricity flowing. These highly skilled employees light our homes and businesses every day. They endure harsh weather and long hours, all to make our lives better. Please take a moment to thank them, use #ThankaLineman to show your support.