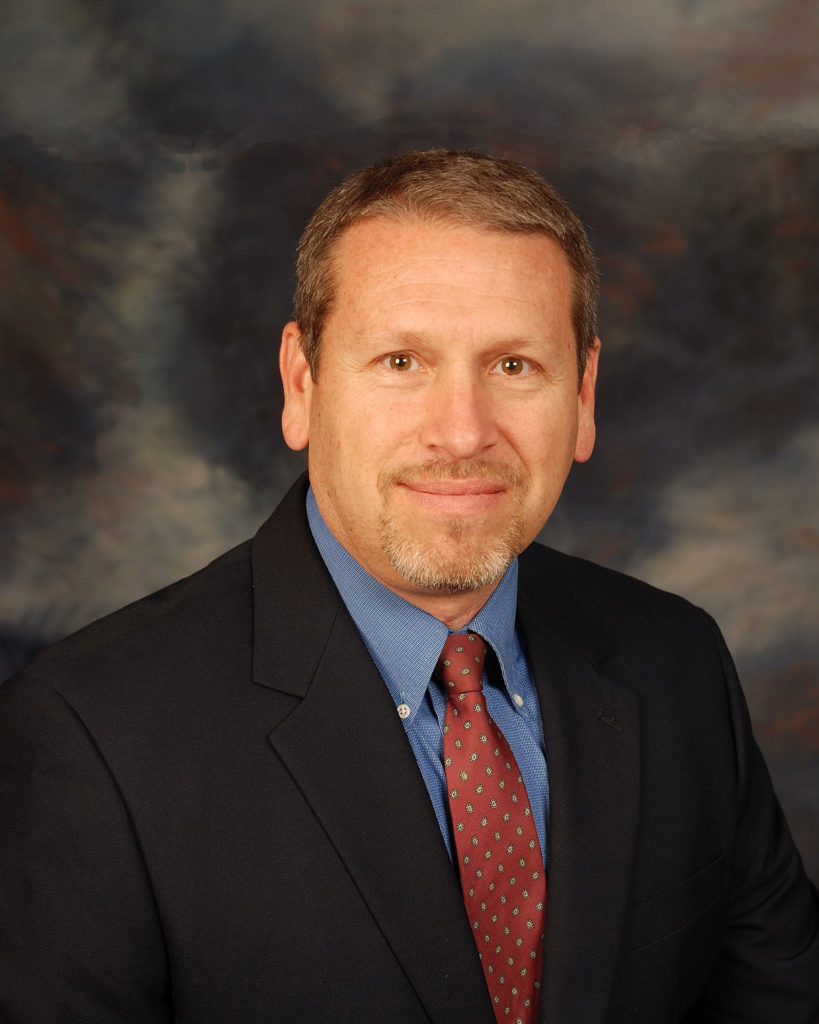 Power Cost
The District does not have any generating facilities. It purchases 91 percent of its power requirements from Nebraska Public Power District. The other 9 percent is purchased from Bluestem Energy Solutions, which provides power from three wind turbines. Power costs typically range from 78-83 percent of total operation and maintenance expense. In 2021, power cost was 81.5 percent of total operating costs, meaning for every dollar spent, 81.5 cents goes to purchased power cost. NPPD did not increase power production rates for 2021, therefore Perennial did not need to raise customer rates.
The District purchased 393.771 million kWh, at a cost of $19.558 million in 2021. Purchased power from NPPD amounted to 360.997 million kWh at a cost of $17.967 million. Power from Bluestem was 32.774 million kwh and cost $1.592 million. In 2020, kWh purchased was 379.491 million at a cost of $18.682 million.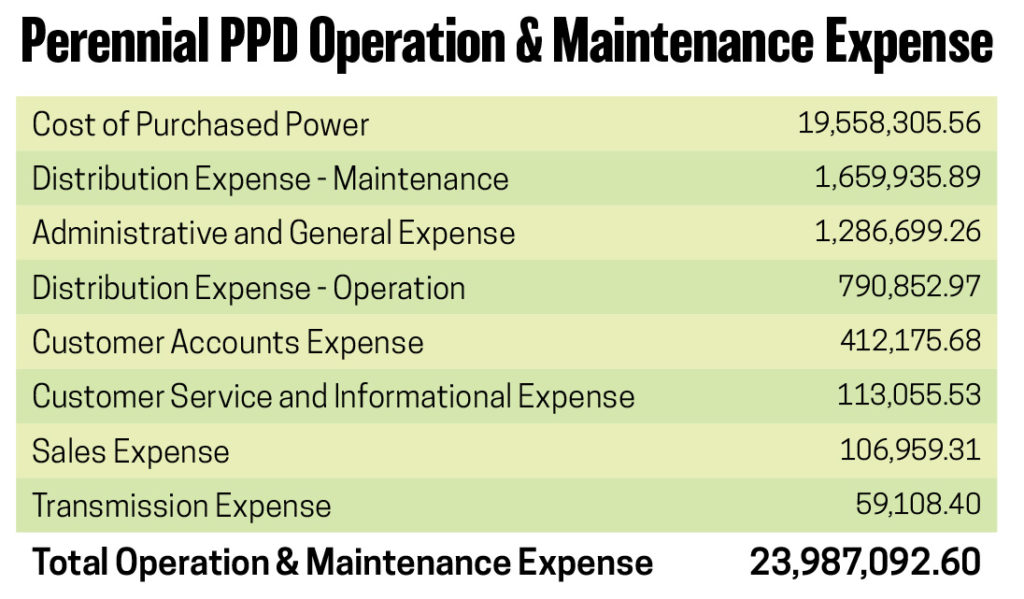 Depreciation
Depreciation of system and capital assets is the largest non-operating expense. In 2021 depreciation expense was $2.207 million, compared to $2.118 million in 2020.
Long Term Debt
In 2021 the District issued $6.445 million in bond debt. This money paid off an issue from 2016 with a higher interest rate and to finance the current work plan. At the end of 2021, bond debt was $10.650 million.
Non-Operating Revenue
With interest being minimal in 2021, the District saw even lower returns from investments in 2021. Interest income in 2021 was $43,983 compared to $150,068 in 2020.
Utility Plant
Each year the District plans for building and rebuilding areas of the system that need to be added or replaced. The District's total utility plant went up $3.25 million to a total of $77.06 million. Total utility plant in 2020 was $73.81 million. At the end of 2021, the District's equity in relation to assets was 82.21 percent, compared to 84.47 percent in 2020.
Cash And Investments
As of December 31, 2021, cash and investments totaled $17.056 million. Of that, $2.402 million is restricted funds that are kept for bond debt reserves, rate stabilization, and held in capital membership accounts.
In Summary
Perennial ended 2021 in a strong financial position. Perennial's management and board of directors always strive to manage the District's funds so that the system can be well maintained while keeping rates as low as possible. If you would like any further information or have any questions, you may contact Mike Haumont, the Manager of Finance and Accounting at 402-362-3355.
The System
Perennial's transmission and distribution system consists of 1,948 miles of line, providing power to approximately 7,600 meters in York and Fillmore counties in Nebraska. Perennial employs 31 people, and the District headquarters is located in York, Nebraska.
Energy Sales
The District has several revenue classes that make up energy sales. The industrial and irrigation classes make up the largest portion of sales revenue. The industrial class typically accounts for 40-45 percent of total sales revenue. Industrial load is more consistent, whereas irrigation is dependent on weather conditions and can vary year to year. The District had an increase in revenue from energy sales of $739,377 in 2021. Revenue in 2021 was $29.732 million, compared to $28.992 million in 2020.
The largest component of sales revenue is derived from selling kilowatt-hours (kWh). Total kWh sold in 2021 was 379.115 million, compared to the 365.792 million in 2020. In 2021 we saw less precipitation, and it reflected in the increase of irrigation kWh sold, being 15.168 million more than 2020. In comparison, the industrial class saw no change in 2021.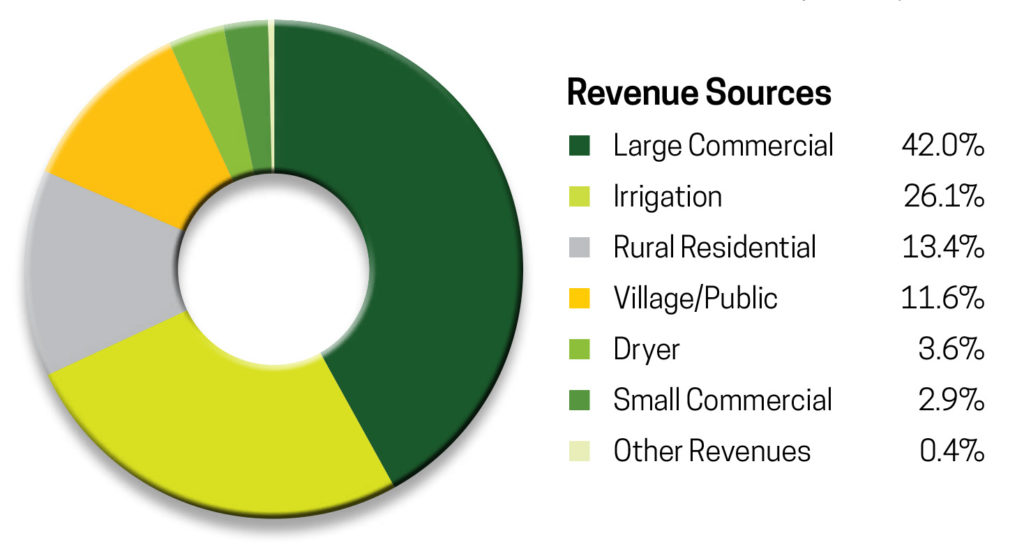 Operation & Maintenance Expenses (Excluding Power Cost)
In order to keep the electric system reliable and efficient, the District spends dollars in addition to power costs on the operation and maintenance of the system. Operation and maintenance expenses (less power cost) was $4.429 million in 2021, compared to $4.334 million in 2020.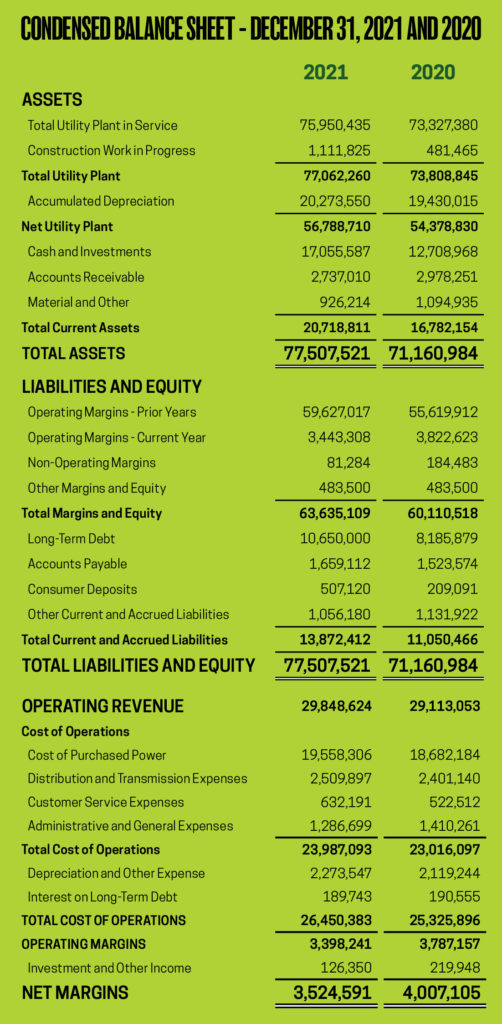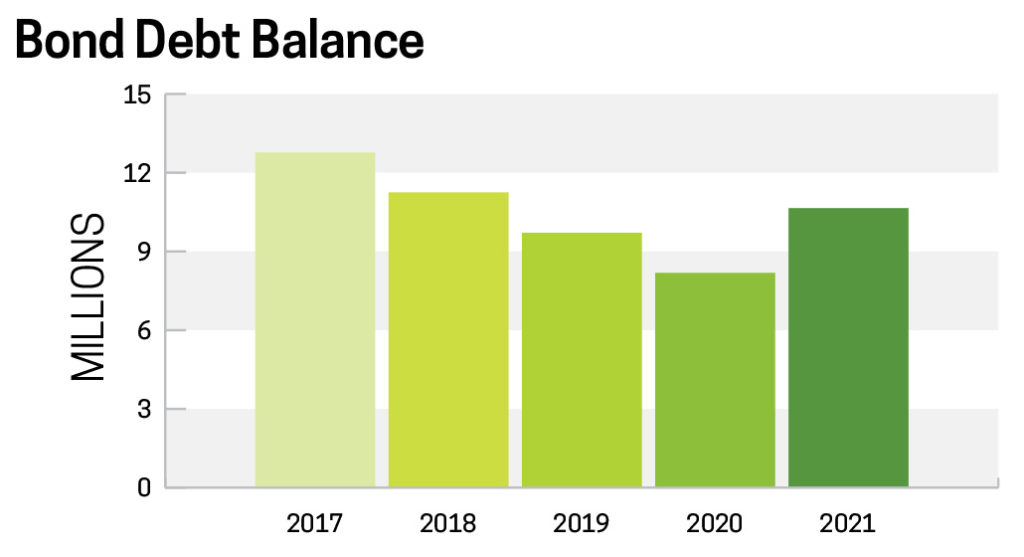 .