While most of April was rather windy, the storm that hit the District at the end of April caused widespread damage in our territory. According to the National Oceanic and Atmospheric Administration-Hastings, in Fillmore County there were consistent straight-line winds of 70-85 miles per hour (mph), with pockets of 90 plus mph wind gusts. York County had lesser wind speeds, with consistent wind speeds at 58 mph and pockets of wind gusts in excess of 60 mph. While there were no tornadoes officially confirmed in either county, the possibility of a brief tornado still exists.
The April 29, 2022 storm affected 5,280 of the District's meters, with approximately 100 broken poles and left nine substations without power. Perennial was able to get assistance to restore power to the territory from three neighboring public power districts; Butler Public Power District, Polk County Rural Public Power District, and South Central Public Power District. With such widespread damage, some customers were without power for over fourty-eight hours. Power was retored to the few remaining residential customers without power by Monday morning, May 2, 2022. Even though all of the residential customers were back on by Monday morning, there were several wells and grain bins that were still out of power. Repairing the infrastructure took some time since there was extensive damage caused by the storm.
This storm damage created several safety risks which needed to be addressed after the storm. With so many downed power lines, Perennial and Fillmore County Emergency Services needed to make sure they could ensure the safety of everyone the risks could affect. Fillmore County Department of Roads along with Fillmore County Emergency Services closed roads with downed lines over them so people could not drive over the lines and endanger themselves. Perennial needed to redirect the power, so the lines were no longer carrying electricity.
Restoring power after this storm involved several steps. First our line crews had to assess the damage the storm had caused. Next, they had to address the safety risks and be sure to ensure the safety of anyone who could possibly come in contact with the lines. After that, line crews start to repair high-voltage transmission lines so the substations can deliver power and the rest of the system can operate correctly. The next step was to inspect all of the substations that could have been damaged in the storm. By inspecting the substation, crews can determine if the problem lies within the substation or if there is a problem further down the lines. If there are no problems with the substation, crews need to patrol the main distribution lines. These lines carry power to large groups of customers in communities or homes.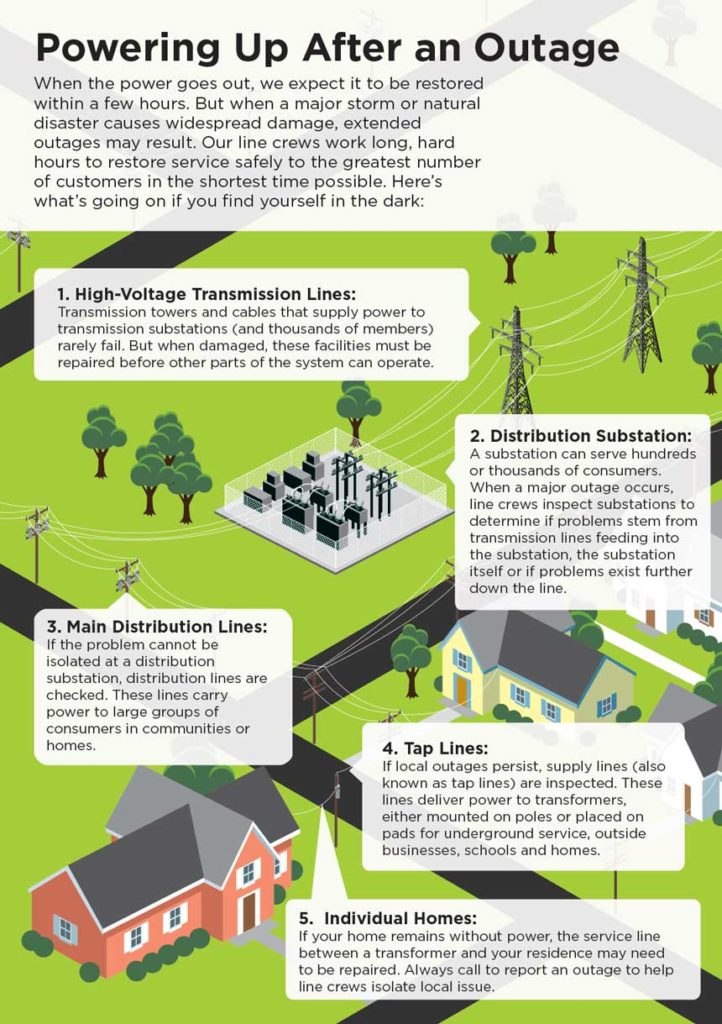 Once they have fixed the main distribution lines, they start fixing supply lines (also known as tap lines). Supply lines deliver power to transformers, either mounted on poles or placed on pads for underground service. These transformers are usually located outside of businesses, schools, and homes. Finally, if there are still locations without power, Perennial line crews will look for damage along the service lines. These service lines are the lines between a transformer and the meter.
Perennial would like to thank customers for their patience during the restoration process. As always, Perennial is ready to respond to summer outages no matter what the cause. We'd like to remind everyone to remember after a storm, limbs and debris may hide an electrical hazard. Treat all downed power lines as if they are energized and report them to Perennial at 402-362-3355 or tollfree at 1-800-289-0288.