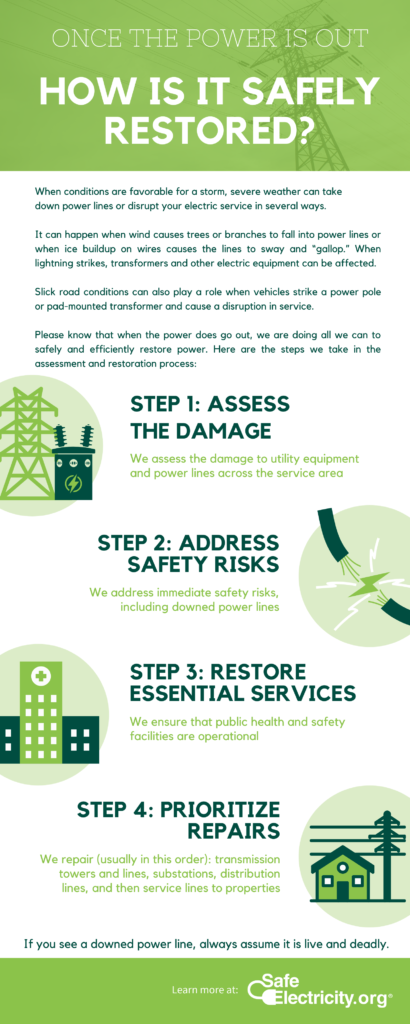 The year 2020 was unique, to say the least, thanks to the arrival of COVID-19. Contributing to the chaos was a record-breaking heat, droughts, rains, cold snaps, and various other inclement weather concerns. What do all these weather phenomena have in common? Unfortunately, they all had the potential to result in power outages, but bad weather isn't the only cause of power outages. Power outages can be caused by tree limbs falling on power lines, animals or birds interfering with power lines, or vehicle accidents.
Here in Nebraska, we are fortunate to have an advanced power grid supported by public power, making our system the most reliable in the nation. According to the U.S. Energy Information Administration, electricity consumers in Nebraska typically only experience outages for 0.005 percent of the year.
Have you been wondering what happens on our end when your power goes out? After you report an outage, Perennial employees jump into action to get your power restored as quickly and safely as possible.
If you think of Perennial's power lines as the nerves of Perennial's system, then our Supervisory Control and Data Acquisition (SCADA) system would be its brain. Our Operations Department uses our SCADA system to monitor our substations continually. While they use our automatic meter reading system to monitor the electric system as a whole continually. Using these two systems, they can see power interruptions on Perennial's electrical system and take the necessary action required. If your meter is the only one reported to be offline in the area, the lineworker will be dispatched directly to that transformer. Suppose you are part of a more extensive outage. In that case, system analytics will help predict the outage area, and the lineworker will be dispatched to that location to investigate the issue. Fault indicators (status lights) also help operations personnel determine an issue's location by flashing when they sense abnormally high current. If a fault indicator is flashing, it allows operations staff to know where to look for the issue on the line. Once the issue has been identified, additional line crews may be dispatched if needed to fix the issue.
During large outages, you may wonder how Perennial prioritizes its restoration. Repairs are done in a systematic way that starts from the substation and works down the line. Our data can provide an approximate distance from the substation to the problem, but it is less accurate the further the issue is down the line. This process allows us to restore power to the largest number of customers in the least amount of time.
Data is collected from every outage so it can be used to improve our reliability. Knowing which areas are prone to outages and have the longest downtimes helps Perennial discern what areas need improvement.
While calm weather is a rarity in Nebraska, we use those days to maintain our system. Perennial uses longevity tracking to help identify equipment that might be reaching the end of its life so it can be replaced before it causes a problem. We also use load tracking to know what areas have demand that exceeds the equipment's capacity. When the load has exceeded the equipment's capacity, Perennial will upsize the equipment to meet the demand before an outage occurs.
We want to thank you for your patience during power outages. Know that in the event of an outage, we are working hard to restore it as safely and efficiently as possible, day and night.
Source: Safe Electricity