McCool Junction Public Schools welcomed a new school bus into their fleet in October. The bus, manufactured by Blue Bird Corporation of Macon, Georgia, features an all-electric power train. The school bus seats 43 students. The new electric school bus joins the school's fleet of mostly diesel-powered buses and one propane-powered bus. Except for a few green-colored accents, the electric bus looks like any other bus in McCool Junction's fleet.
The Environmental Protection Agency's Clean School Bus Program made the purchase of the electric school bus possible. McCool Junction was one of six schools in Nebraska to participate in this program. The other five schools that received an electric school bus were Hay Springs Public School, Hershey Public School, Raymond Central Public School, Southern School District, and Summerland Public School. Participating schools were required to replace one of its diesel buses with an electric bus.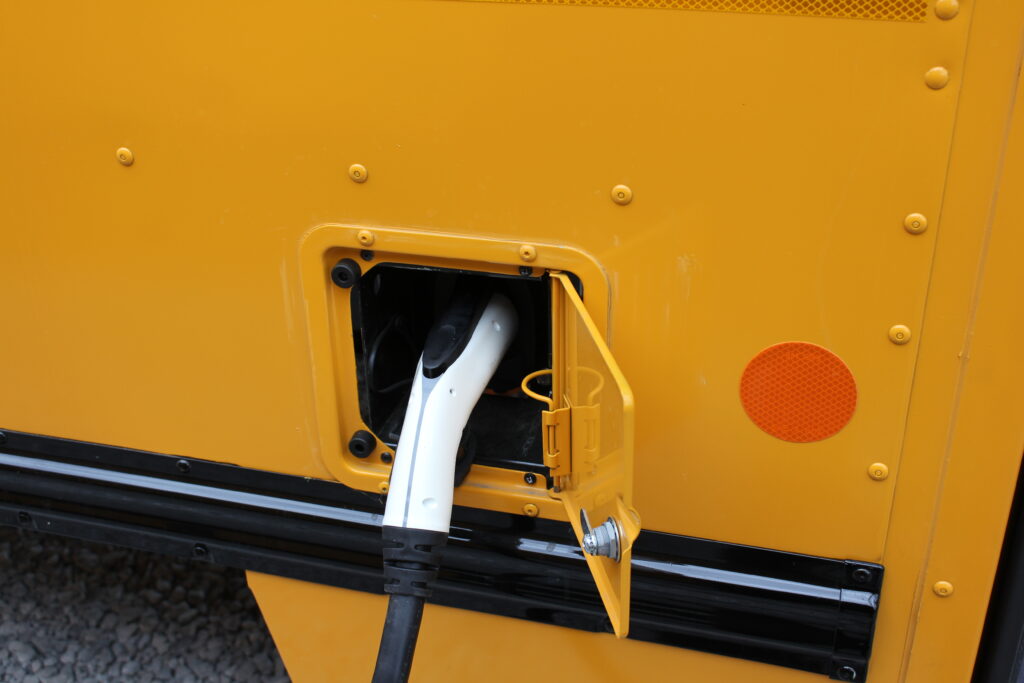 The bus's lithium-ion battery pack can be fully recharged in about 6 to 8 hours. The expected battery life is about 12 to 15 years. Replacing the battery pack, if one is needed before the bus is retired, is expected to cost about $50,000.
The electric bus is expected to have lower operating cost than a traditionally diesel-powered bus. Today, a dollar buys about as many British Thermal Units (BTU) of energy in both the form of diesel fuel and electricity. However, due to higher energy conversion efficiency, an electric bus will travel further on a dollar of energy than would a diesel-powered bus.
Additionally, an electric bus should have lower maintenance costs than a diesel bus. An electric bus never needs an oil change, engine maintenance, or transmission maintenance. Of course, electric bus technology is new enough that unanticipated power-train expenses could arise.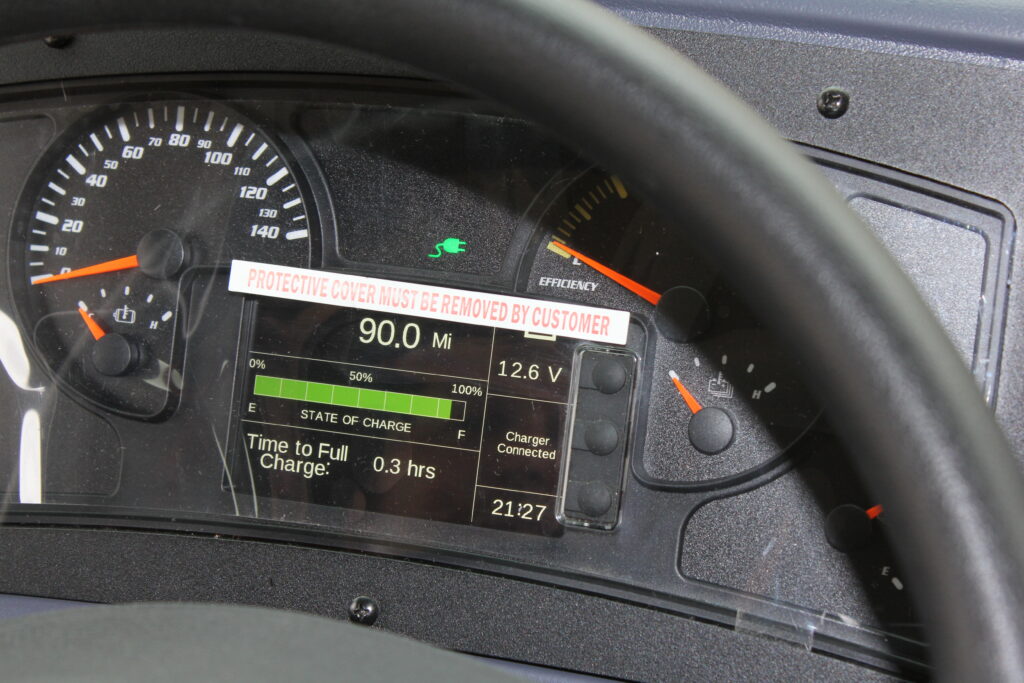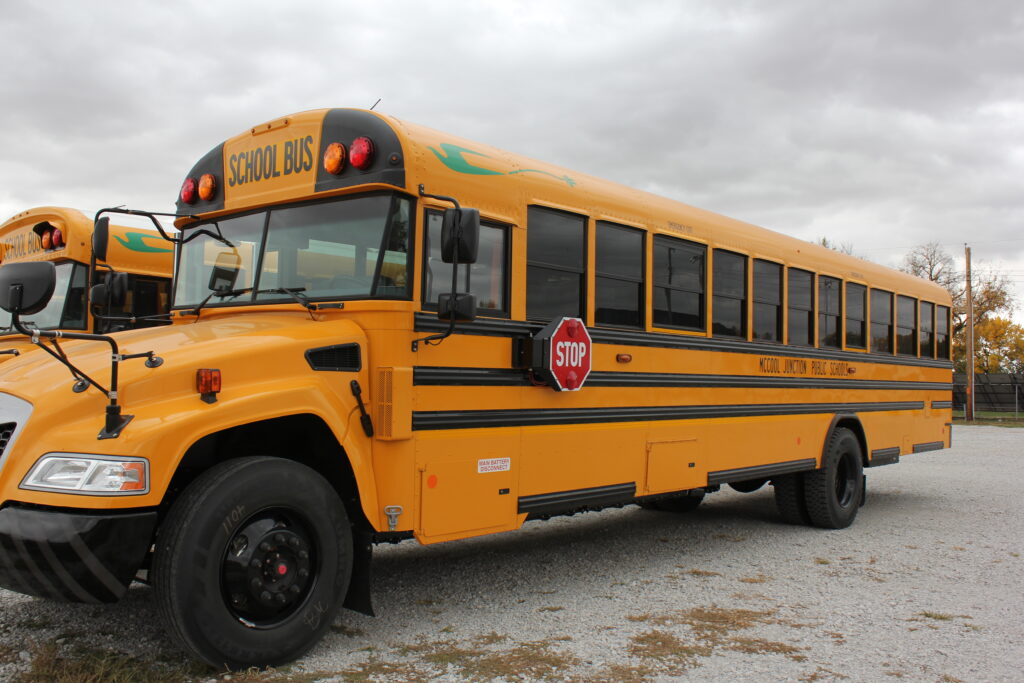 Perennial Public Power District provided financial assistance for the bus's electric vehicle charging station by providing a financial incentive to cover 90 percent of charging equipment and installation costs. Dawson Electric of Mc Cool Junction installed the charging station.
The bus can be expected to travel 100 miles with a full charge. Blue Bird electric buses feature internal temperature control to provide rider comfort in many weather conditions. However, to ensure maximum driving range during very cold weather, the bus is equipped with a diesel-powered backup heater.
McCool Junction Public Schools plans to use the electric bus as a route bus. School district route buses have a fixed daily route to travel. Operating on a route will allow the school district to better align this vehicle's daily energy needs with battery capacity.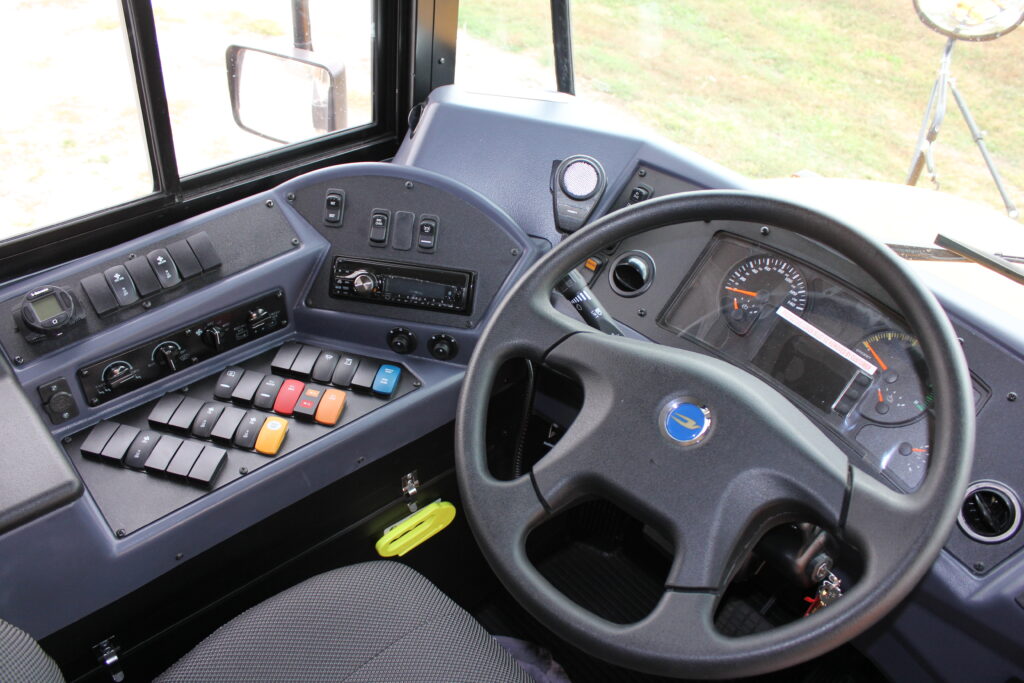 Information provided by Nebraska Public Power District (NPPD) indicates that maximum battery life can be more achievable if batteries are only charged to 80 percent of capacity most of the time. NPPD also recommends charging during the cooler parts of the day. During cold weather, NPPD recommends "preheating" the interior of the vehicle for a few minutes while the charger is still connected, as doing so will increase the range
of the vehicle.
After a few years, the McCool Junction school district should have a good understanding of the relative costs of ownership for their electric bus and the experience to know how to get the best performance from their bus.
The Blue Bird Corporation has manufactured more than 550,000 school buses since its founding in 1927. Approximately 180,000 Blue Bird buses are presently in service in North America. Blue Bird designs, engineers, and manufactures the buses it sells. This ensures that frames and bodies are specifically tailored to school bus needs. Blue Bird buses can be powered by either gasoline, diesel fuel, propane, compressed natural gas, or electricity.
The Blue Bird Corporation, the only school bus manufacturer owned and operated by a corporation based in the United States, has a long history of manufacturing electric school buses. In 1994, Blue Bird delivered its first electric school bus to a school district in Southern California as a demonstration project. However, the battery technology at the time was far from adequate, and mass production was not feasible.
Almost twenty years later, in 2016, Blue Bird was awarded a $4.4 million Department of Energy grant to develop electric school bus technology using today's batteries, electric motors, and control technologies. Delivery of the first seven electricpowered 72-passenger buses was made in time for the 2018-2019 school year.
With sales of electric buses growing fast, Blue Bird modified a portion of its bus manufacturing facility to specifically meet the needs of electric vehicle production during 2023. Electric bus production capacity was increased from 4 to 20 buses per day. At the time that the McCool Junction school district took possession of their new bus, the 1,500th Blue Bird electric school bus was delivered. We wish them well and are excited to learn about their experiences.