For my article this month, I initially thought I would write about the construction, maintenance and customer service activities that we have in this year's Work Plan and Budget. But then I remembered something that I told staff as we were in the planning stage of preparing the Work Plan. That is, no matter how well we plan, we most likely won't be able to finish all of the projects, as something unexpected will come up that will take time away from being able to complete everything in the Work Plan. It might be new services for customers that we didn't know about when we were putting our plan together. But it most certainly will be the time it will take  during the year to restore power and make repairs following storms, even if the storms are small and it only takes a day or two to put  everything back together.
Knock on wood; we've been pretty lucky for quite a few years. We haven't had the type of weather that can  cause major storm damage to electric distribution systems, such as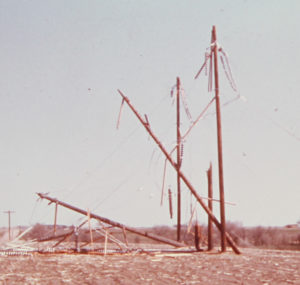 the historic snow storm that hit North Carolina this past  December which left thousands without power. Or worse yet, a storm like Hurricane Michael which resulted in almost a half a million Floridians being without power in October.
Of course, if you are in the electric utility business long enough, chances are you will experience an event that creates major storm damage. The most prominent event for us occurred on March 29, 1976, when in a matter of hours rain changed over to ice and heavy wet snow. Then came the wind.  I remember the day well. I had just settled in to watch Indiana and Michigan play in the college basketball national championship game when the lights went out, and I hoped that the power outage would be short lived, so if nothing else I could at least catch the end of the game. Little did I know the devastation caused by the storm. In our service territory fifty percent of the power lines,  mostly the east and west lines, were either on the ground or severely damaged. Think about that. Fifty percent of the power lines in York and Fillmore County! Every customer in the district was without power, with some for as long as a month!
As far as this year's Work Plan is concerned, most of the projects that we plan to work on are those left over from previous years, which we didn't have time to complete because of unexpected events. Even though minor storms can cause a major hassle, let's keep our fingers crossed and hope that we don't experience the type of weather that can totally wreck a Work Plan.