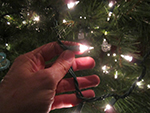 Gathering with family and friends during the holidays often means making great memories, reliving traditions, and sharing the spirit of the season. However, amid all the festivities, don't forget about safety.  Here are some tips shared by Safe Electricity to help ensure that your holiday season—whether decorating, feasting, or traveling — remains a safe one.
Keep safety in mind when decorating the home. Ensure that your tree is placed at least 3 feet away from heat sources such as fireplaces or radiators and on a stable platform. Before hanging holiday lights, check for worn spots, fraying, and excessive kinking.  Damaged strands of lights should not be used. Consider investing in LED light strands.  Although they are more expensive than traditional incandescent bulbs, LED lights last much longer and are also more efficient and durable.
Don't get burned in the kitchen. Clean your stovetop and oven often, especially before the large amount of baking and cooking that takes place for family gatherings. Doing so will help prevent fires in the kitchen, should a malfunction or accident in the kitchen take place. Do not leave combustible items, such as towels or pot holders, near the stove top. Keep all appliance cords away from heat. Never use appliances near the kitchen sink. Plug appliances into ground fault circuit interrupter (GFCI) outlets. Unplug your appliances when they are not in use.
Whether you are leaving the home for a few hours or for a few weeks, turn off all lights when they are not in use. Your neighbors can still enjoy your exterior Christmas lights while you are away if you put them on an automatic timer. This will remove the extra worry of an electrical accident while also reducing energy costs. If you will be gone for an extended holiday trip, you can reduce the risk of a power surge damaging equipment by unplugging unneeded electrical devices before leaving.
For more home electrical safety tips, visit SafeElecticity.org.