Public power districts have always had a special relationship with veterans. Perhaps because they are both so closely united in their position, focusing on service, mission, and country. Maybe it is because a disproportionate number of veterans come from rural communities and return to their hometowns following active duty. Or, perhaps it is due to the shared work ethic of teamwork, cooperation, and a "get it done" attitude. Most likely, it is all of the above. Here at Perennial, we are lucky to employee two veterans, Mike Haumont and Brian Soukup.
Mike served in the National Guard in Nebraska based out of Lincoln from 1986 to 1992. He attended basic training at Lackland Air Force Base in San Antonio, Texas. After graduating from basic training, Haumont went on to Keesler Air Force Base in Biloxi, Mississippi, where Haumont attended technical school. Mike was on standby during the Gulf War. While in the National Guard, Haumont reached the rank of Staff Sargent. Mike's favorite part of his time in the National Guard was the comradery he felt with his fellow soldiers and the ongoing training he did while he was in the National Guard. Haumont still has an eagerness to learn, which he uses today in his job as Manager of Finance and Accounting.
Brian joined the United States Army in 1992 and went to basic training at Fort Leonard Wood. After Soukup graduated from basic training, he was sent to Fort Gordon, Georgia, where he attended technical school to receive training on radio and satellite communications. Brian was stationed at Fort Dix, New Jersey until his unit was called upon to be support during part of Desert Storm for 16 months he was stationed in South Korea. Soukup left active duty in 1995. During his time in the Army, Soukup reached the level of Army Specialist. Brian's favorite part of his time in the Army was being able to meet people from all over the United States and across the globe. In his position as a Lead Line Technician, Soukup continues to be a great communicator at Perennial.
Perennial is thankful to all veterans, past, present, and future who have served our country. We recognize the many sacrifices made by our men and women in uniform, and we would like to thank them for their contribution to our country. Special thanks to Mike and Brian for serving our country and for continuing to serve with us every day at Perennial.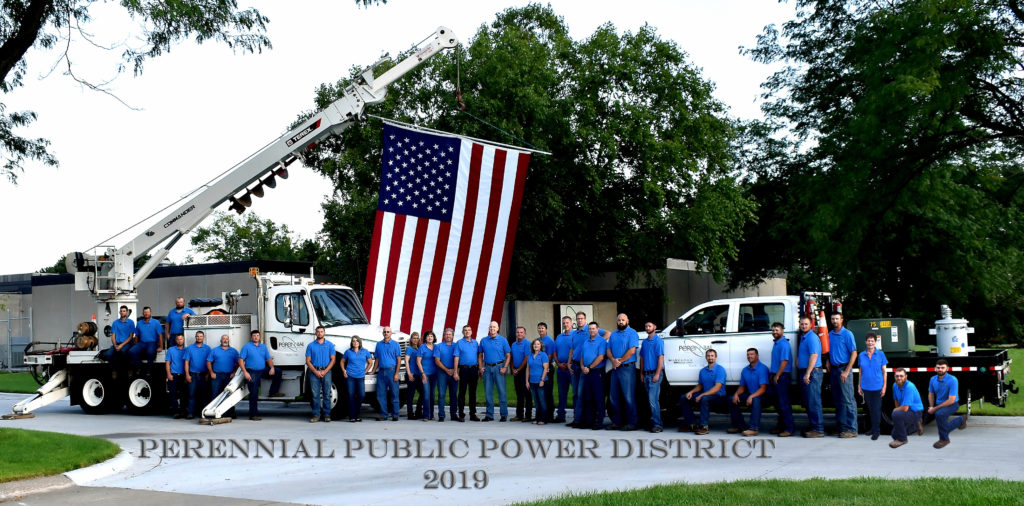 Perennial Public Power District Employees 2019