Energy Wise Tips are dedicated to bringing you an energy tip to save you energy and money!
EnergyWise℠ Tip: Refrigerator Tips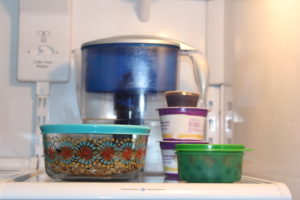 The average refrigerator purchased before 2006 consumes approximately $187 of electricity per year. While post-2006 refrigerators only consume around $50 of electricity per year. These numbers make it one of the bigger energy users in your house, so keeping this appliance running efficiently can help you save energy and money.
Cleaning the refrigerator properly can take a few hours, but you can also break this task into smaller jobs if you don't have a free afternoon to dedicate to cleaning the fridge.
Clean Your Refrigerator Coils
Cleaning your refrigerator's condenser coils at least twice a year will help your refrigerator run as efficiently as possible. Dirty coils make your refrigerator work harder and use more energy. To do this, roll the fridge away from the wall and use your vacuum's hose attachment to get all of the dust out of the coils.
Location, Location, Location
Once done cleaning the refrigerator, you can put it back where it belongs, but make sure it is not completely flush. Leave a few inches between the back of your refrigerator and the wall so air can circulate.
Clean Out the Refrigerator and Freezer
Keeping the refrigerator and freezer packed too full is not only annoying but it is also bad for energy efficiency. Cleaning out your forgotten leftovers from the refrigerator and making extra space makes your life easier and allows air to circulate through the fridge better, improving efficiency.
Bonus: Since you're pulling everything out anyway, this is a great chance to wipe down all of the shelves and drawers.
Keep it Uncluttered, But Not Too Empty
A not-too-packed refrigerator and freezer are a good thing when it comes to efficiency, but if they are too empty after you've cleaned out the food that's past its prime, you might want to fill it back in a bit. If a trip to the store isn't in the plans for a few days, you can always put a few jugs of water in the refrigerator and a few bags of ice in the freezer to help retain the cold when you open the door.
Temperature
Don't keep the refrigerator too cold. Energy Star® recommends a temperature range between 35° – 38° F to keep food fresh, but not waste energy. You can get an inexpensive refrigerator thermometer at your local hardware store to put on a shelf in your refrigerator to help you check your temperature settings.