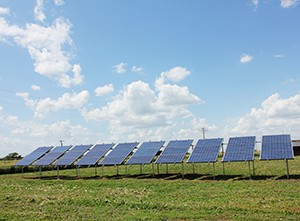 Net metering allows residential and commercial customers who generate their own electricity from renewable resources to feed electricity they do not use back into the grid.  Many states have passed net metering laws.  Nebraska became the 43rd state with a "net metering" law when Governor Dave Heineman signed LB 436 in May 2009 after the measure received strong support in the Nebraska Unicameral.
Net metering is a billing mechanism that credits renewable energy system owners for the electricity they add to the grid.  For example, if a residential customer with a solar system generates more electricity than the home uses during daylight hours, if the home is net-metered, the excess electricity will flow to the grid and the customer will receive a credit against what electricity is consumed at night or other periods where the home's electricity use exceeds the renewable energy system's output.  Customers are only billed for their "net" energy use.  However, they are still charged their normal monthly Facilities Charge so the utility can recover the costs associated with maintaining the utility's electric distribution system, in which the customer will need when the renewable energy system is unavailable.
LB 436 was adopted to encourage customer-owned renewable electricity resources like wind, solar, biomass, hydro power, methane, and geothermal.  The law also contains important safety-related interconnection guidelines to make sure customers and utility employees are not injured, and electrical equipment is not damaged, by the operation of customer-owned electric generation.
Net Metering Rules and Regulations
Net Metering Application with References
Small Renewable Interconnection Agreement